Zach Alvira, AFN Sports Editor | February 02, 2022

Feb 2, 2022 Updated 29 min ago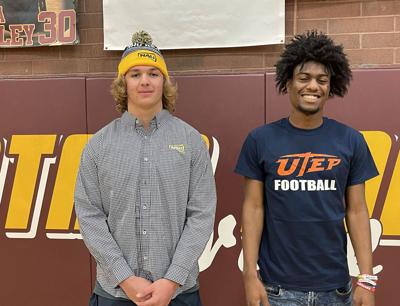 Mountain Pointe's Jack Plote announced his commitment and signed with NAU while Amier Boyd flipped from Northern Illinois to UTEP. Zach Alvira/AFN Staff
Another National Signing Day period has arrived, as athletes across the state pledge to their homes for the next few years to continue their academic and athletic careers.
It's become rare to see pledges made on Signing Day, as most athletes announce their college destinations days, weeks or months ahead of signing their National Letter of Intent. But every signing period brings its fair share of surprises.
This year, it happened to come in Ahwatukee.
Amier Boyd, Mountain Pointe's versatile wide receiver, defensive back and practically any other position on the field, flipped his commitment Wednesday from Northern Illinois University to the University of Texas El Paso, giving the Miners one of the state's most athletic players.
"It was close to home, and it felt like home," Boyd said. "If anything were to ever happen in the family or something it would be easier to be there. That was a big thing that made me switch."
Boyd visited UTEP just days ahead of Signing Day and made his decision Sunday, he said. But he kept it a secret until he was able to announce it for himself in front of a full gymnasium at Mountain Pointe Wednesday morning.
Along with the close proximity to his home in Phoenix, Boyd said he felt welcome in El Paso. And he believes he can make an immediate impact to a team that went 4-16 combined in 2019-20 but turned it around for a 7-6 campaign last fall.
"They're a building program and everybody there is focused and committed to the program," Boyd said. "Off the field they're bought in and on the field. I can't wait to get in there."
Boyd initially committed to Nevada in the fall but switched his commitment to Northern Illinois after a coaching change. But when UTEP came in late, he weighed the benefits of sticking close to home.
That ultimately led to his decision to sign and become a Miner.
One chair over from Boyd sat Mountain Pointe offensive lineman Jack Plote. Up until just a few days before National Signing Day, Plote had garnered interest from several Division II, III and NAIA programs.
Plote visited the campus of Northern Arizona University over the weekend and had the opportunity to tour the new multi-million-dollar athletic facility. From there, the NAU staff offered him as a preferred walk-on.
Since watching his older brother play at South Dakota State, playing Division I football had always been a dream for Plote. And with confidence in his ability, he announced Wednesday he accepted the walk-on offer at NAU and signed with the Lumberjacks.
"They gave me an opportunity and I took it," Plote said of NAU. "I wanted to chase my dreams. I'm happy for my parents because this is what they wanted for me. This has been one of my goals my entire life and now I get to go up there, bust my tail and get after it."
Plote moved from tackle to guard this past season to help anchor the left side of the offensive line alongside freshman Kaleb Jones. At 6-foot-3, 250 pounds, Plote has the opportunity to play anywhere on the line at the next level.
He knows he can make an impact in Flagstaff and believes he can earn a full scholarship at some point in his collegiate career. He knows it'll take a strong work ethic, something that has been instilled in him from his parents and coaching staff at Mountain Pointe.
For that, he is thankful.
"I'm thankful I got to sign alongside my teammates, my brothers," Plote said. "We were the class that started to change things around. It was great."
Plote and Boyd were joined by fellow football players Devon Sparks, Jacob Romero and Terryon Rowe signing their National Letters of Intent Wednesday. Sparks, a versatile running back and linebacker, signed with Arizona Christian University. Romero, who played linebacker, also signed with ACU. Rowe, a defensive back, signed with Southwest Minnesota State.
Mountain Pointe baseball player Carlos Vega signed with Cochise Community College to continue his career. MiMi Harris, a standout volleyball player, signed with Alabama State while Matthew Luoma, who plays volleyball on the boys' side, signed with Penn State.
Eleven Desert Vista athletes signed their National Letters of Intent on Wednesday to continue their careers at the next level.
Just down the street at Desert Vista, the Thunder had 11 student-athletes sign to continue their careers.
Noah Jodon, one of the state's top distance runners, signed to run for the University of Arizona. Carter Lolli, a standout golfer for the Thunder, will continue his career at Colorado School of Mines. Golfers Peyton Bell and Hailey Bolander signed with Niagara University and Northern Michigan, respectively.
Aiden Klein represented the boys' soccer team by signing with Benedictine University. On the girls' side, Mya Fortun (CSU Bakersfield), Emily Herrmann (Western Oregon) and Madilyn Makay and Mya Moore (Scottsdale Community College) all signed.
Elijah Baker and David Nation, two offensive linemen for the Thunder football team, added to the list of players from the program that have moved on to the next level. Baker signed with Alabama State and Nation with Western New Mexico. Jai Rodrigues, who played next to Nation and opposite of Baker, signed to New Mexico State in the fall.
"We are proud of our athletes, coaches and parents today," Desert Vista Athletic Director David Klecka said. "At Desert Vista we set the bar high academically and athletically. "To have 11 student-athletes sign today shows you that Desert Vista is the complete package."